PROTECT YOUR FAMILY & HOME
Wode disinfectants are chemical-free and alcohol-free yet effective and fast-acting. It kills 99.9999% of bacteria in seconds and disinfects against viruses. The powerful ingredient inside Wode disinfectant is Hypocholorous acid. Wode disinfectants are tested and proven to be safe for babies and even our pets. Discover more about the science of our active ingredient below.
The powerful ingredient in our WODE Sanitizer - Hypochlorous Acid (HOCl)
Nature's super powerful disinfectant, Hypochlorous acid has anti-microbial powers. When the pH of the solution is lowered to the correct level, HOCl is created, exactly the same substance that is your immune system's germ fighter. So when you take your child to that indoor play area – your white blood cells get to work creating hypochlorous acid.
HOCl is our body's germ killer. Our immune system protects us against disease by detecting pathogens such as bacteria, viruses, fungi, protozoa and worms. The immune system defends our body by triggering a respiratory burst of neutrophils (white blood cells), releasing hydrogen peroxide and other reactive oxygen species.
Myeloperoxidase, an enzyme abundant in neutrophils, produces HOCl from hydrogen peroxide in the presence of chloride anion. HOCl is then used by neutrophils to kill pathogens.
HOCl has been approved by U.S. Food and drug administration. Hospitals in Japan have used HOCl to disinfect and Covid-19 drive thru testing stations and South Korea uses HOCl disinfectant in their clean zone booths for nurses to fully disinfect before going home. The Singapore National environmental agency has included Wode disinfectant water as household products adequate for surface disinfection of Covid-19 virus.
Benefits of using WODE:
Kills 99.9999% of Bacteria in seconds
Free of Alcohol, Chemical and Fragrance
Covid tested and certified
Child and Pet Friendly
Non Toxic
Eliminates Odour
No harm/pain when used on injured skin. Aids the disinfection of wounds.
Free of harmful chemicals, non-toxic, gentle – suitable for even babies and pets.
Disinfects the Surrounding air
No sticky feeling after application
CERTIFICATIONS: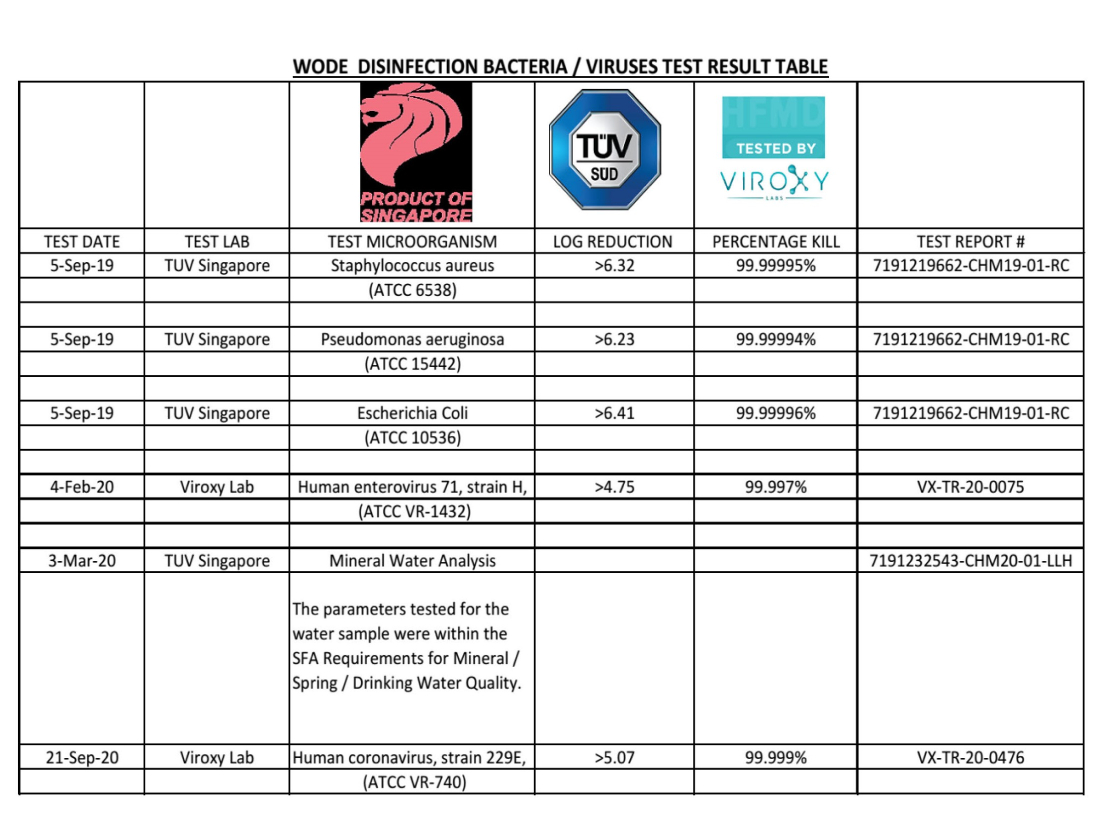 DIRECTIONS:
Spray directly on hand or skin surface and rub gently. No rinsing required.
Product of Singapore. Made with German technology.
Showing 1 to 9 of 9 (1 Pages)